Athletics

CVHS offers a comprehensive program in competitive athletics that is open to all students in grades 9-12. These sports are governed by regulations developed and administered by the Oregon School Activities Association (OSAA).
April 10, 2020 Update
A message for Raider Nation from Athletic Director Mark Henderson
With the announcement this week of the school closure for the remainder of this school year, this also means that our spring sports season has been canceled. We are all devastated by this news but in order to keep everyone safe and healthy, it is a necessary action. Although we will miss seeing our Raider student-athletes compete this spring we look forward to next fall and the chance to get back out there and represent Crescent Valley. 
To the class of 2020: Thank you so much for all your hard work and dedication to Raider Athletics, it will pay off for you in your future endeavors and we wish you the absolute best!!
Families wishing to arrange for a refund for the spring pay-to-play fee please contact Mrs. Spreadbury at keri.spreadbury@corvallis.k12.or.us.
Listen to CV Football & Boys Basketball Live
Now you don't have to miss a minute of Raider football action on the field or the boys basketball team in the gym.  Tune in to hear the play-by-play from Danny Havel using the online link below.
https://radio.securenetsystems.net/v5/index.cfm?stationCallSign=KFIR
Or over the air in the valley on 720AM
Spring Sports Registration
Spring sports tryouts/1st practice start on Monday March 2nd. Prior to participation all athletes need to have the following on file in the CV Athletic Office:
**Current Physical (expires 2 years from date of exam)
**Code of Conduct (signed by parent & athlete)
**Emergency Contact Card
**Participation Fee $150 or $75 (free & reduced lunch)
All forms are located on this page.
Student Athletes at CVHS
To participate in an athletic program, students should contact the head coach or athletic director before the beginning of the season for information regarding tryouts, practice schedules, and team requirements. A user fee of $150/$75 for free/reduced lunch students  (paid each sport season) is required along with a CODE OF CONDUCT, EMERGENCY INFO CARD and PHYSICAL EXAM.  The fees pay for our coaches, transportation and referees, etc.  If you have any questions or are in need of financial assistance please call the athletic office.
A physical exam is required for freshmen, juniors, new students, and first-year athletes. Returning sophomores and seniors who have physical exam cards on file from the previous year do not need to have a new physical examination. In other words, a physical exam is good for two years. Student athletes must also satisfy the academic and training rules of the OSAA and Corvallis School District.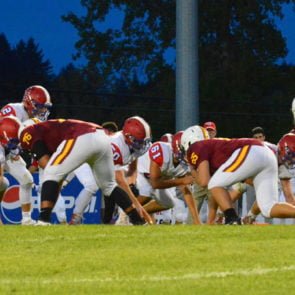 Required Forms
In addition to a signed physical exam form and annual health history form, students and parent/guardians are also required to sign an Athletic Code of Conduct and complete an emergency contact form.
Fall
Fall sports kick-off the new school year for both athletes, the school community, and spectators. Some fall sports, like boys and girls soccer, have tryouts in the summer.  There may also be summer conditioning and practices. To find out specific practice and game times as well as other important information, contact the team coach.
Winter
The winter athletics season typically gets started in early November with tryouts and practices. To find out specific practice and game times and important information, contact the coaches.   Code of Conduct and Emergency card must be filled out for each season.    Athletics staff will check your eligibility (grades & credits), collect your user fee, and make a clearance slip for the new sport.
Spring
Spring athletics are often impacted by rain and wet fields. There are times when practice or a game may be cancelled due to weather conditions. During our spring sport season we post on this page the current game status.   To find out specific practice and game times and important information, contact the head coach.
Non-School Sponsored Sports
Community sponsored club sports are defined as those sports not recognized by the Oregon Schools Activities Association. They are independent of and receive no funding, services, or supervision from the Corvallis School District. The use of a school name by a community sponsored club sport will be at the discretion of the principal after review of the completed application. The district retains the right to revoke the use of the school name at any time.  Links provided are not hosted by CVHS or the district and the district assumes no liability for the activities of community sponsored club sports.
Lacrosse – Girls, coach Erica Baker
Lacrosse – Boys, coach Lorin Reed
Ski Racing Team – Co-ed