As the exciting Graduation Celebration Parade approaches we want to share additional information with seniors, families, and our community. Please carefully read over the following important information.
Graduation Live Stream Link: https://youtu.be/qZLSgOhfyvo
**All seniors, along with family members in your car, need to arrive at Benton County Fairground BY 3:30 pm – no later. The parade will promptly begin at 4:00 pm. Plan accordingly.**
ONE

vehicle per graduating senior AND family in the parade (no carpooling with other classmates).

This is critical to follow – a system has been put in place for staff and board members to adequately identify which senior is in which car so they pull the correct diploma – ALL cars will be numbered. The number on your car correlates with your last name.

If more than one senior is in a car, we cannot identify and pull the correct diploma.




 

ONE

vehicle per graduating senior AND family in the parade. 

Corvallis Police Department guidelines.

There will be no "viewing" areas on campus. Campus will be closed the day of the event. 

Whomever is in your vehicle will be the ones to see you receive your diploma.

We will be live streaming this portion of graduation.

Graduation will be broadcasted on 720 AM KFIR (live roll call)

Other viewing areas will be along the parade route (see provided map)
TSS Photography of Newberg,

professional photographer(s), will be onsite capturing a photo of every senior receiving their diploma. 

We encourage families to take pictures on CV campus in the days prior to graduation or after the conclusion of graduation. 

CV campus will be closed the day of graduation.
After seniors have received their diploma they have two choices:

Loop back around to stay in the parade line

Head safely home to celebrate with family

Stay tuned in to 720 AM KFIR
When the final car picks up their diploma, Mr. McKee will have a final message to all seniors (on the radio) – including moving your tassel from your right to your left side.
Important Reminders:
You must stay in your vehicle at all times

except

receival of your diploma. 
You must be in the cab of a vehicle (may not ride in the bed of a truck). Please DO NOT stand up in the sunroof of vehicles.
Each senior will have a number written on their car window – this correlates with last names.
ALL staff members will be wearing masks throughout the duration of this event. 
Physical distancing measures (6 feet) must be maintained during the parade and graduation event. 
Once you arrive at the fairgrounds, you will NOT have to worry about any lineup order. You will have a number to identify who you are for diploma retrieval. This is critical for our radio DJ and school staff – we need to know who is in what car for you to receive the correct diploma.
Car Decorating Event – 
On June 5th, starting at 4:30 pm, CV will host a car decorating event for seniors. Seniors are grouped by LAST name (small groups), and staggered start times were created (see times below) to ensure social distancing. CV staff will be onsite for this event. This is optional, but a fun way to get ready for the parade. Students will have 2 parking spaces between each parked car (this exceeds the one space guidelines ODE and OHA have provided) while decorating. CV is providing supplies for this event. Sanitation will occur after each group to ensure safety. 
The event times are listed here (LAST names): 
A – D @ 4:30 pm

E – J @ 5:00 pm

K – O @ 5:30 pm

P – Z @ 6:00 pm 
Police Escorted Parade Route (for families & community):
Start at Benton County Fairgrounds
Head North on NW 53rd St.
Continue onto NW Walnut Blvd.
Left on NW Crescent Valley Dr.
Left into Crescent Valley student parking lot
Police Escorted Parade Route (for SENIOR VEHICLES ONLY):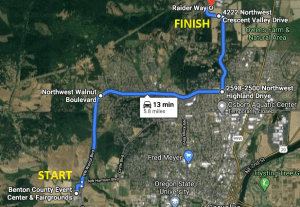 .
Campus graduation route (for SENIOR VEHICLES ONLY):